Hanoi, June 30, 2023 – VinES Energy Solutions Joint Stock Company (a member of Vingroup) and Bach Khoa Investment & Development Of Solar Energy Corporation (SolarBK) signed a strategic agreement to promote "Make In Vietnam" integrated rooftop solar and battery energy storage systems (BESS) solutions.
Under the agreement, SolarBK will be the authorized distributor for the BESS products of VinES, applying for integrated solar rooftop and BESS solutions for residence and office segments in Vietnam.
SolarBK and VinES have also announced the pilot of 300 systems, which includes a special offer for the first 100 offices and families registering to install the systems in 2023. This is the first step to launch the systems on a larger scale in 2024, contributing to the Vietnam Power Development Plan VIII of having at least 50% of office and residential buildings have rooftop solar systems installed by 2030.
The Solar + BESS solutions, introduced by SolarBK and VinES, will bring to the market a product developed based on the synergies from the only solar panel manufacturer and the only battery manufacturer in Vietnam, towards "Make In Vietnam" products, with high-quality, reasonable price and best-in-class aftersales services in Vietnam. Furthermore, the Solar+BESS solutions will play a key role in accelerating the clean energy transition and achieving Vietnam's commitment to climate change programs.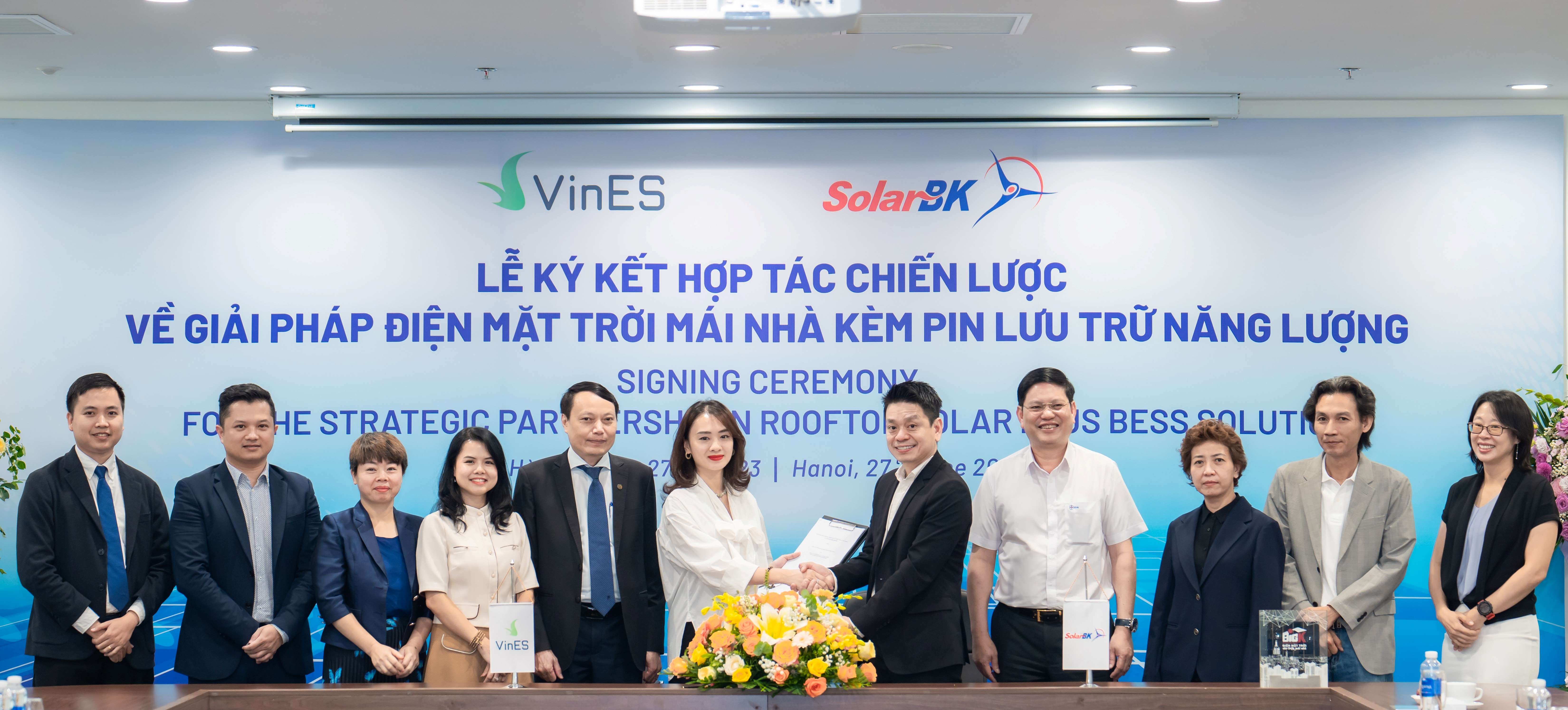 Ms. Pham Thuy Linh, CEO of VinES,
said "
We are very excited to announce this strategic collaboration with SolarBK in developing the integrated rooftop solar and battery energy storage system solutions for residential and office segment in Vietnam. The partnership does not only concrete our vision and commitment but also marks a key milestone where Vietnamese companies can join hands to provide clean energy to daily life for a sustainable future of Vietnam."
Prior to the partnership with VinES, SolarBK also cooperated with Vincom Retail, another member of Vingroup, to invest in 14MWp solar systems in 50 Vincom shopping centers across the country.
Mr. Nguyen Duong Tuan, CEO of SolarBK,
shared "
It is our exhilaration to continue our collaboration with Vingroup in developing sustainable renewable energy solutions in Vietnam, especially with VinES in the solar energy storage. Solar+BESS solution is our joint effort to promote renewable energy adoption in Vietnam and commit to the Net-zero target by 2050. Since its establishment, SolarBK has been always consistent with its vision of "clean energy into everyday life". Today, we are happy to see more Vietnamese companies working together to create a greener and better life."
SolarBK has its preceding research foundation in the Research Center for Thermal Equipment and Renewable Energy of
Ho Chi Minh City University of Technology
. Throughout 17 years of development, SolarBK has become a comprehensive manufacturer and solution provider in the renewable energy sector, with a strong and complete ecosystem with specializing subsidiaries, including manufacturing of high-tech renewable energy equipment (IREX), investing in rooftop solar systems for enterprise customers with high energy consumption (SolarESCO), distributor for the residential segment (SolarGATES) and R&D (SolarBK).
VinES is a transformative clean energy solution provider and the only BESS manufacturer in Vietnam. Before the partnership with SolarBK, VinES also joined forces with Marubeni - a leading conglomerate in Japan with intensive experience in the power sector - to promote the adoption of BESS in the C&I sector in Vietnam.
Mr. Nguyen Quoc Dung, from Vietnam Electricity Company (EVN),
shared:
"W
e highly appreciate the efforts of the two companies cooperating to promote highly meaningful and valuable solutions to Vietnamese people and businesses. Congratulations on this partnership
and we look forward to seeing SolarBK and VinES continue developing more "Make In Vietnam" products and solutions to promote green values in the community."
The partnership between VinES and SolarBK marks the beginning milestone for Vietnamese families and businesses to use cleaner and more sustainable energy solutions, embracing the awareness and accelerating the renewable energy demand in Vietnam, which will play a key role in supporting Vietnam to achieve its commitment toward climate change programs.
***
About Vingroup
Established in 1993, Vingroup is one of the leading private conglomerates in the region and currently focuses on three main areas: Technology and Industry, Services
,
and Social Enterprise. Find out more at:
https://www.vingroup.net/en
.
About VinES
VinES Energy Solutions, a member of Vingroup, specializes in researching, developing, and manufacturing advanced
lithium-ion
batteries for mobility and energy storage applications. Its battery cell, module
,
and pack R&D and manufacturing capabilities ensure the delivery of advanced
batteries
that meet the safety and quality standards required for EV/ESS and other energy application applications. In addition, VinES has established partnerships with some of the world's leading battery technology companies to provide full coverage as a transformative energy solution provider. Learn more at
https://vines.net.vn/
.
About SolarBK
Bach Khoa Investment and Development of Solar Energy Corporation (SolarK) is the leading solar power company in Vietnam,
specializing
in investing and providing a full-pledged solar power platform, covering research, production, design - construction, EPC
,
and O&M.
SolarBK was founded in 2006 on the foundation of 40 years
of
technical research. Its predecessor is the Research Center for Thermal Equipment and Renewable Energy (RECTERE) of Ho Chi Minh City University of Technology. Throughout 17 years of presence in Vietnam, with the vision of connecting the community through green and smart energy, SolarBK has contributed ​​to the solar energy industry through typical activities and projects:
the l
ighting project on Truong Sa archipelago (8 MW), built and owned "100% Made in Vietnam" photovoltaic panel and solar equipment factory (IREX factory, Ba Ria - Vung Tau), is the first one to provide the solar system monitoring and control technology in Vietnam (SSOC, 2016)
, etc.
SolarBK group's products and solutions meet export standards to demanding markets such as the US, Europe, Turkey, and New Zealand. With the orientation to become a
utility
provider
of
clean energy and smart energy saving, besides the established vertical value chain, SolarBK always strives to diversify cooperation to strengthen
the
domestic market and
seek
more
opportunities
in international markets, providing customers with smart, saving
,
and sustainable energy
solutions
.